Share Defense/ June&July 2014.
In the first text called "Internet remembers everything", you had the chance to read the analysis of the state of freedom of expression and information on the Internet during the emergency situation because of the floods that hit Serbia and the region in May. We could see content critical of the government mysteriously disappearing (e.g. Dragan Todorović's blog), blogs and portals suddenly becoming unavailable and citizens being called for questioning by the police for expressing their opinion on the Internet.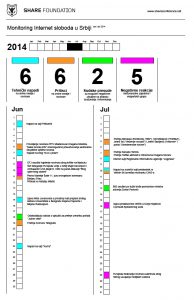 Reactions of the international community
As a reminder, OSCE Representative for Freedom of the Media Dunja Mijatović recently expressed her concern about the disappearance of various online contents in Serbia and the detaining of individuals because of their Facebook statuses regarding the great floods that hit the region. Websites that published critical articles aimed at the government, such as "Druga strana" and "Teleprompter", were under attack, while the whole "Blog" section of the daily newspaper website "Blic" was removed after journalist Dragan Todorović published a blog post called "AV ostavka" ("AV resignation"). Because of the statement of the OSCE Representative, Prime Minister of Serbia Aleksandar Vučić sent a letter in which he asked for an apology because of allegations that there is online censorship in Serbia. Mijatović later said that her message remains that those activities need to be investigated and that the perpetrators should be held accountable, for which she received assurance from the head of the Serbian Government.
On June 11th, Member of the European Parliament Marietje Schaake sent a letter to the European Commissioner for Enlargement and European Neighbourhood Policy Štefan Füle regarding the cases of online censorship and intimidation of individuals in Serbia. She asked if the Commision had been in contact with the Serbian authorities and whether the Commission assessed that these actions were not in accordance with the EU accession criteria.
Also, during the "Blog open – Blog closed" discussion, the Head of the EU Delegation to Serbia Michael Davenport said that although blogs, Twitter and Facebook are not officially recognized as media, they still represent an important source of information for many people. He also stated that any country aiming to become a member of the EU should not only refrain from pressures on freedom of speech, but also provide a space where individuals and organizations could not exert pressure. Ambassador of the United States to Serbia Michael Kirby encouraged bloggers to freely express their opinion and added that they must be allowed to do so even if we might disagree with them.
After a judgment of the Court of Appeals, according to which TV "B92" must pay 200 000 Serbian dinars to assistant of the former Minister of Health because of libel, OSCE Representative for Dunja Mijatović said that this decision limits reporting on matters of public interest. "International standards require that public officials withstand a higher level of criticism from the media", she added. The journalists in this case used an official police report as their source, but the court did not consider it a document of a state body. The judgement also ordered "B92" to remove the disputed article "Selective justice" from its website.
European Federation of Journalists (EFJ) expressed concern because of adopting a set of media laws through an urgent procedure. This organization sent a letter to the Head of the EU Delegation to Serbia Michael Davenport in which it stated that the new laws will regulate a series of important issues, such as the privatisation of media, on which journalist associations and unions, as well as media experts, should definitely be consulted.
It is important to consider cases that occurred during June and July because they show a worrying trend of endangering freedom in the digital environment.
"Invasion of hacking attacks"
In the beginning of June, when portal "Peščanik" published an article by three scientist about how the Minister of Internal Affairs of Serbia Nebojša Stefanović had plagiarized his PhD thesis, the website became unavailable shortly after. Editor of "Peščanik" Svetlana Lukić confirmed that the site had been under attack. At first, there were information that the attacks came from the server of Megatrend University and that the proxy of Academic Network of Serbia was used, but then the Ministry of Internal Affairs stated that the attack did not come from Megatrend. The site was also attacked from servers in Canada and the Czech Republic. As the website experienced constant technical difficulties, they had to start publishing articles on Facebook. Problems with access to "Peščanik" continued after an article about the PhD thesis of now former rector of Megatrend University Mića Jovanović was published.
Although he didn't appear in "Utisak nedelje" (a popular TV programme on current events) aired on June 15th, where he was supposed to provide evidence about his PhD thesis from London, Mića Jovanović was the only guest in "Teška reč", a programme aired on TV "Pink" at the same time. During the show, Jovanović mentioned that by "some sources" he came into possession of an email correspondence between the former rector of University of Belgrade Dejan Popović, who he accused of plotting against him and Megatrend University, and Miljana Radivojević, one of the authors of the article about the Jovanović's non-existing PhD thesis from London. A certain group of hackers (allegedly "Anonymous Serbia") accessed Miljana Radivojević's email account and sent the correspondence to addresses of many media newsrooms. Jovanović repeated certain statements from the hacked correspondence during "Ćirilica", a TV programme aired on TV "Happy" the next day. "Through so-called operational data, as they would say in State Security Agency, I came to a shocking revelation. So, now they are undermining the state leadership through Megatrend University", Mr Jovanović said on that occasion. However, shortly after that, "Anonymous Serbia" denied having accessed Ms Radivojević's account, because they use a special email address for communicating with the public ([email protected]), while the correspondence was sent from the private address of this scientist. Miljana Radivojević filed a criminal complaint against Mr Jovanović and an unknown person because of unlawful access to her private email account and violation of secrecy of letters.
Another case that should be mentioned is the attack on the website of daily newspaper "Kurir", that occurred during June 23rd and 24th. According to some information, the attack occurred after the World Cup football match between Croatia and Mexico. Digital media director of "Adria Media" company Predrag Roganović said that "according to the IP addresses it can be seen that the attacks are coming from all over the world, but that doesn't mean that those are real addresses". Attacks on "Kurir" and other portals were condemned by Independent Journalists' Association of Serbia (IJAS) and Journalists' Association of Serbia (JAS). A second attack of much higher intensity followed after two days. "We are asking state bodies to immediately enable us to work normally, as well as for the possibility to freely inform the public in a timely manner", it was stated on the website of this daily newspaper.
The website of the Regional News Agency "Jugpress" was brought down on July 8th and according to information of their hosting provider, it was infected with malicious code. "Jugpress" reports about events from Southern Serbia, Kosovo and Northwestern Macedonia, and it has already been attacked in 2006 and 2013. Lately, the agency reported on all articles that told of the floods and the plagiarized PhD theses in a different way.
We could also mention the example of "Dva u jedan" (dvaujedan.rs), a blog by journalists Stojan Drčelić and Mihailo Medenica, which was attacked and brought down on multiple occasions. Journalists' Association of Serbia asked that the police and the Cyber Crime Prosecution Office find out who is behind the attack on this blog, which is especially known for expressing critical views about different social phenomena.
According to the statement of the Service for Cooperation with the Media of the President of Serbia, official website predsednik.rs and the server where it is hosted were under attack during June 10th and 11th. State services authorized for protecting the President's communications acted on time and it is expected that the perpetrators will soon be discovered.
When we speak about the current cases of sites being attacked in Serbia, we should remind that the website of the Center for Investigative Journalism of Serbia (CINS) was attacked in December last year, and a new case of unauthorized access happened in the beginning of February, after a story about casinos had been published. "We filed a criminal complaint and after three or four months of constant messages from the police about what we should do in order for them to start an investigation, we decided to speak about it", CINS Director Branko Čečen said during a panel "Ko zatvara otvorenu mrežu" ("Who is closing an open network"). It is really not clear why these processes do not move from the starting point, having in mind that these are serious criminal acts which endanger the work of independent media and freedom of information. In order to prevent technical attacks on the Web, which are becoming an increasing threat, it seems that it is necessary for competent bodies to use available resources more efficiently and establish better cooperation with damaged parties.
Pressures on media and journalists
How much pressure is being exerted not just on citizens who wish to impart information freely, but also on journalists, shows the arrest of RTV Mladenovac journalist Dragan Nikolić. He was called for questioning because of publishing a critical comment about the Belgrade City Manager Goran Vesić, who is also an official of the Serbian Progressive Party (SPP). On his Facebook profile, Nikolić copied a part of a text titled "Vesić. Goran Vesić", published on the "Kolumnista" portal, which was about Vesić's statement that the evacuated citizens of Obrenovac caused a damage of 100 000 Euros in "Slavija" hotel, where they were accommodated. Complaint against Nikolić was submitted by a SPP Member of the National Parliament form Mladenovac Milorad Cvetanović, because of "damaging the reputation of high officials of that party". Also, the European Federation of Journalists (EFJ) reacted because of this case.
Prime Minister of Serbia Aleksandar Vučić visited Germany during June and met Chancellor Angela Merkel. During a press conference that followed, journalist Natalija Miletić asked Mr Vučić questions whether the media censorship allegations could endanger Serbia's road to the EU and did Mrs Merkel advise him what to do with plagiators. She did not receive answers, and after the conference people working for the Serbian Embassy in Berlin told her not to ask for press passes in the future. After these events, daily newspaper "Informer" published on its front page that the "free journalist" caused a scandal and set up a "media ambush" for Vučić and Merkel.
Minister without Portfolio Responsible for Emergency Situations Velimir Ilić insulted Milica Šarić, a CINS journalist, when she called him to check information about a conflict between his security and a police officer in 2004 and another incident involving a reporter of "Večernje novosti" in 2007. Ilić apologized to the journalist and sent her 101 roses. She returnedthe roses, but CINS nevertheless accepted Ilić's apology, asking the politicians to stop vilifying journalists.
Former "Večernje novosti" desk editor Srđan Škoro started a blog. He was removed from his position after he had criticized the future Government of Serbia while he was a guest on the Morning Programme of the Radio Television of Serbia. The Government was formed on the same day the programme was aired.
Problems at the local level
Cases of endangering freedom of expression in local communities represent a specific problem because they are occurring more often and journalists and citizens are usually unprotected against "local lords". For example, editor and owner of "Informativni Internet portal Rume" Nenad Tomić received threats from the owner of the local hotel Dušan Dragišić. Namely, Dragišić approached Tomić without any cause and told him that he would cut off his ears and bite off his nose and further threatened and insulted him in front of numerous witnesses.
Twitter activist Dragan Murar was threatened by the assistant of the President of the Municipality of Obrenovac Ivan Jerogović on his Facebook profile. Murar is very active in the struggle for the rights of Obrenovac citizens hit by the floods.
Owner of "Matešić transport, LLC" from Ruma Željko Matešić threatened a journalist of news portal "Telegraf", which reported of his suspicious business with the local police station chief, saying: "I am an honest man and you denounce me! And later you wonder why they beat up journalists?!" In addition to a lawsuit, Matešić also announced a physical clash.
After they had published an information about his arrest, which was confirmed by the Smederevo police, member of the City Council of Smederevo Milan Lukić accused media and journalists of writing untruthful things on his Facebook profile, with a series of malicious, offensive and untruthful comments and a picture of the "Death Reaper". The journalists in question are Miroslav Đorđević ("Blic"), Olja Milošević ("Politika"), Jelena Ilić ("Večernje novosti") and Jelena Vasiljević ("Informer" and portal "Smederevske novine"). Lukić's action caused a series of threats, insults and humiliation of journalists, because of which they complained to the police and the Prosecutor's Office in Smederevo. According to the latest information, the Prosecutor's Office in Smederevo is checking Lukić's threats to journalists.
Former managing director of the heating plant in Niš Milutin Ilić, Dobrivoje Stanimirović and Mija Janković were acquitted of charges that they have threatened the editor of "Južne vesti" portal Predrag Blagojević and thus endangered his security. They said to Blagojević things such as "you said that I'm a liar, and now I should caress and pet you – it's not going to happen", "you shouldn't be playing with these things" and "don't play with fire". The Prosecutor's Office has announced that it will appeal the decision.
Journalists of "Naša Grocka info" portal have been prevented from attending the sessions of the Municipality Assembly of Grocka since October 2013. The last time they weren't allowed attendance was on June 6th. According to editor-in-chief of the portal Željko Matorčević, Municipality President Stefan Dilberović said during a session of the Assembly that "as long as he is performing that duty, the journalists of this site will not be allowed to attend the sessions or any event taking place on the Municipality premises". Dilberović then said that the journalists of this portal could not attend the sessions of the Municipality Assembly because they hadn't applied for press passes on time.
What's left for us?
Today, digital media and citizen journalism are almost on par with traditional media and are almost as reliable. They also represent a faster and more interactive way to receive information. That's why citizens also need to be aware that only by using the rights guaranteed to us by national and international regulations such rights make sense. They need to be aware of their rights, but also of their role and have a responsible approach to it.
We can see that although the emergency situation is abolished in most parts of Serbia, the state of freedom of expression and media in the online sphere is still concerning. Judging by the great number and variety of cases that happened during the past two months and the fact that the situation has not improved compared to the previous analysis, we think that state bodies need to be more active in solving problems. The solution might be the dissemination of information important to the public in a timely manner and the reaction of relevant institutions to the noted cases of violation of Internet freedoms and digital rights.
As we continue to notice the tendencies of different actors that are trying to discourage citizens and media to express themselves freely on the Internet, creating a "chilling effect", we must continue our struggle for the Internet as a place of open access, as well as free and decentralized exchange of information. That is why it is very important to openly speak about the mentioned and similar cases, so endangering freedom of speech and information on the Internet wouldn't become a usual thing no one cares about, which is accepted as a reality you cannot do nothing against.